Trailforks App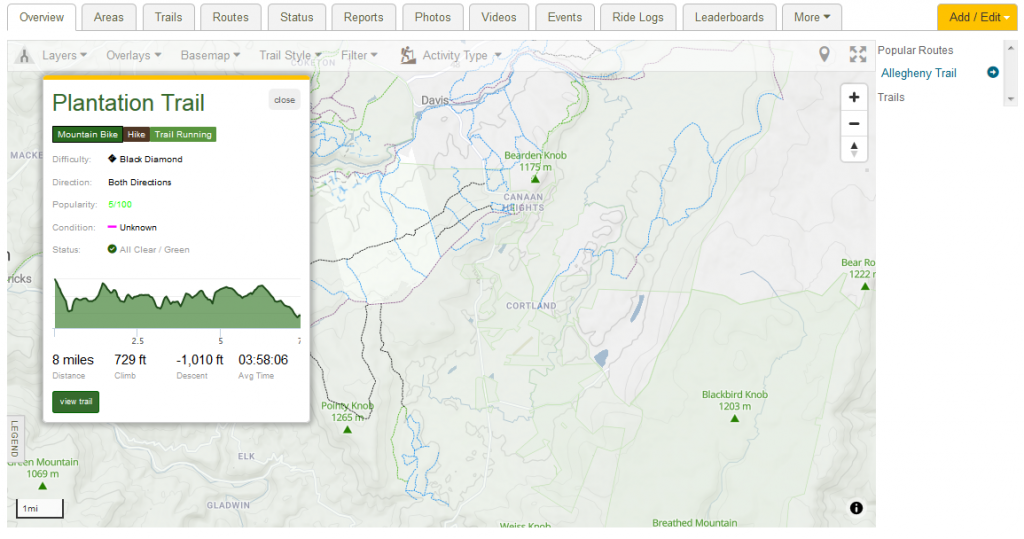 2/27/2020: Our newest board member, Brian Sarfino, clued us into Trailforks. This website and mobile app is a great resource for any and all trail users. Here's a link to the WV database. "Trailforks is a trail management system for outdoor enthusiasts, trail builders/associations, government and tourism. It aims to provide the very best tools to inventory, maintain, promote and showcase trail networks and tourism destination. Tools such as statistics empower each group to have accessible data to show local city councils, governments, tourism boards and parks, conveying the popularity and potential economic impact of outdoor recreation on their area in order to receive further support to grow trail networks."
---
Headwaters trail
As of summer 2019, our proposed Headwaters Trail has been approved by the WVDNR. This is a major step in our goal to complete our Core Loop Trail and we are eager to move forward with this new section, which will connect Canaan Valley State Park with the new Canaan Valley National Wildlife Refuge Visitor Center. We have few contingencies to meet before we can begin construction. One of those contingencies has already been met: we had a Cheat Mountain Salamander review done and our trail is well below elevation of the known salamander habitat areas. Our next goal will be to purchase and install a boot and bike wash station at either end of the trail to discourage the spread of invasive species. Once these goals are met we will get into the trail design phase and begin identifying funding sources. This is a prime example of how your support (better yet, recurring donation) can help us move forward to complete our Core Loop Trail.

---
REI trail day
Some of our trail work efforts were met with vibrant community support. We partnered with REI on June 22, 2019, for a trail work day on Canaan Mountain.

We also have been strengthening our partnership with Blackwater Bicycle Association (BBA), another local trails nonprofit. Below you can see some of the fresh corduroy we laid down to navigate a large mud hole.
---
New trail kiosk at Tucker boulder park
Another trail map kiosk was completed by Appalachian Dirt in November, 2019. We are updating our map files and will likely install the map in Spring 2020, along with a map from Highlands Trail Foundation, which is working to complete a rail trail that will go from Elkins, WV, to Mt. Storm, WV, passing just by the Tucker Boulder Park in Davis.
---
Beall trail south to be extended
There is some very exciting trail news in Canaan Valley. The Canaan Valley National Wildlife Refuge has recently purchased property adjacent to their Beall South Trail. They are planning to extend this wonderful trail further and ideally will connect it to the new Visitors Center in the heart of Canaan Valley. More news to come on that…
---
WV Land trust buys yellow creek preserve
The West Virginia Land Trust was successful in completing their purchase of Yellow Creek Preserve, which includes the fabled Moon Rocks section of trail just outside of Davis, WV. We have partnered with them to be stewards of the existing trails and we are working on doing a trail log to inventory the needs of the area and also a reroute of the trail to avoid private landowners. From the WVLT website:
"The Yellow Creek Preserve is 860 acres in Tucker County that adjoins the Canaan Valley National Wildlife Refuge and Little Canaan Wildlife Management Area. The property is named after a tributary of the Blackwater River that flows through the property. The property also includes Moon Rocks, a rock formation that is a popular destination for hikers and mountain bikers. The tract contains 3+ miles of the Moon Rocks-Hoodoo Rock loop trail, and links to 20+ miles of the Heart of the Highlands Trail System. Trail access to the Yellow Creek Preserve can be made from the parking area at the National Youth Science Foundation building off Appalachian Corridor H just north of Davis, or from Camp 70 road at the south end of the Tucker County town."
---
17th annual wreath making workshop at White grass
HOH was the lucky benefactor of this annual event put on by Dave Saville and White Grass in Canaan Valley, WV. Dozens of people made wreaths and donated to HOH. This event is every year the Sunday after Thanksgiving.
---
Archived News